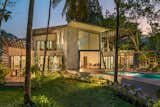 Terra - Earth House - by Kriss Real Estate
Credits
Architect
SAV Architecture and Design
From Elvina Halli
Terra - Earth House by Kriss Real Estate
This expansive, river-side residence features fluid layouts inspired by Geoffrey Bawa. It's inventive, thoughtful and seamlessly functional interiors are inspired by the Bauhaus movement.
Terra was designed as an ode to nature itself. It integrates ponds, internal courtyards, sweeping gardens and private river views to bridge immersive tropical living with eco-conscious design.
Nearly half of the home's 6,300 square foot expanse is dedicated to lush gardens that cascade into The Chapora River.
The home's sandstone exteriors resemble wood and stand in deliberate contrast against the emerald green landscape that surrounds it. Its louvred teak entrance doors are flanked by an extended, shallow water garden that flows adjacent to the reception foyer. The water body and louvred walls ensure a consistent cool breeze ventilates the space even on humid summer afternoons. The foyer flows across a large internal courtyard, down a curved hallway into the main living space.
A sculptural installation of refurbished teak-wood panels along the double-height main wall adds warmth and colour. The otherwise minimalist room is defined by generously high ceilings and a breath-taking view of the infinity pool and the home's sprawling gardens. Customised modular furniture in teak wood and muted green upholstery face the accordion glass doors leading outside.
One side of the immense living room extends into kitchen and dining spaces. The dry kitchen by Euromobile features in-built top-end appliances by Siemens and hand-painted Mediterranean tiles typical of Indo-Portuguese homes. It leads into a discreet wet kitchen by Miton. The kitchen and dinette flow into an indoor dining room and extended gazebo.
The other end of the living space opens into another water garden and a detached bar. Furnished with a curation of customised art deco furniture, the stylish pool-side bar extends into its own gazebo and outdoor seating area. The width of the home's vast garden stretches from the pool bar to the formal dining room and the living room sits nestled in the centre. Each space flows into the other and each space allows dedicated access to the outdoors.
The inner foyer stretches from the lush internal courtyard forward towards the living space. At its centre is an ambient lit elliptical staircase that spirals along the length of the courtyard's glass walls leading to two top-floor master bedrooms and their attached living spaces.
Both masters have their private balconies with a view of Chapora River, a peppering of red tile roofs and the farmlands beyond. An entertainment room accessible through one master bedroom includes a billiards table designed in contemporary fashion and customised for this space.
Although the master bedrooms are especially generous, all of Terra's four bedrooms are over 550 sq. feet large with walk-in closets, verandahs, patios and a view of water bodies.
The larger bathrooms at Terra feature ultra-high ceilings and sunroofs that inspire both indulgence and tranquillity. The powder room or guest bathroom in the home is an avant-garde, monolithic space featuring concrete walls, diffused lighting and industrial fixtures.
Terra or Earth House is one of three bespoke, eco-conscious residences called the Si-Oul Villas. All three homes, Sol (Sun House), Lua (Moon House and Terra (Earth House) are designed to be inventively eco-conscious. Terra, like its sister residences, includes water-efficient plumbing. Its angular roofs harvest rainwater, which is treated for reuse by an underground tank. Sky-roofs, solar panels, curved hallways, louvred walls and fluid layouts are strategically placed to increase ventilation and distribute natural light, making the homes inherently energy efficient. Balconies are built around pre-existing trees and the gardens include ecologically viable plants.
Terra and the SiOul Villas mark a significant shift in regional architecture. They break the mould of the red-tile roof, Mediterranean style homes introduced during the colonial era. More importantly, they redefine luxury architecture as thoughtful design and offer a novel study in regionally sensitive eco-conscious design.
Terra is one of three bespoke, eco-conscious residences in the SiOul Villas trilogy by Kriss Real Estate.
Architecture by SAV Architects.
Interiors by Jharna Sattanathan.
Instagram: @sioul.life
sioul.in
krissrealestate.com