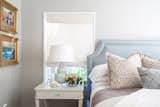 San Marino Master Suite Remodel
From Amy Peltier Interior Design & Home
This master suite by our Pasadena studio is a calming oasis of comfort, functionality, and style. We enhanced the classic architecture with fresh colors and added contrast with a modern interior design language.
The palette has neutral tones with fresh accents like the light-blue headboard and green table lamps. The linen and upholstery add texture to the space with prints and patterns in earthy shades. We added a sitting area that is perfect for enjoying the sun coming in from the large windows.
The master bathroom is all about luxury and comfort. We contrasted white cabinetry with a printed blue-and-white window treatment and an accent wall in the shower in the same blue tones. The look is relaxed to create a serene ambience.
Find more of our work on peltierinteriors.com