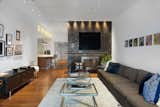 Reimagined Tribeca Condo for $3.15M
From Compass
In the heart of TriBeCa's landmark South Historic District, 56 Thomas Street was originally commissioned by developer Louis Lese in 1897 and designed by New York architect Quinby & Broome in the Renaissance Revival style.
Faced in brick trimmed with cast iron and terra cotta, the façade has three large North-facing windows per story, as well as Southern and Western exposures. The windows are set into a framework of thick iron mullions, and framed by banded stone pilasters.
Accessed by private keyed elevator, Residence No. 3 boasts 10' ceilings, a fireplace and dramatic north and south-facing windows.