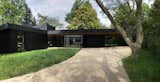 Credits
Builder
Cré-Actif Construction Inc.
From Julie Robert
A major renovation plan turns into a complete rebuilt
Located just twenty-five minutes south of Montreal, this 5000 square feet dwelling includes a 1400 sf basement and a 1000 sf garage with heated polished concrete floors. The original house was finished building in 1958 in Prévert (named after the poet), a neighborhood that modernist architects Longpré-Marchand designed, along with a few partners.
Faithful to the modernist era, this H shaped house however, was originally designed by an unknown Californian architect. When the owners bought it, it was in a very poor state. They thought they could renovate it while keeping its essence, but as time passed, it became impossible to keep even the foundations.
They dismantled it piece by piece and reintegrated every piece of redwood & brick they had into the new design. The house was completely rebuild in the same spot the previous house was, the positioning was perfect! A carport was added as well as an elevated fourteen and a half foot roof over the kitchen area. It took three and a half years to the couple to redesign & rebuild the house. They asked Nature_Humaine Architecture to finalize a few details at the end of the process.
Patrick Asselin founder of Cré-Actif Construction & his partner Julie Robert a sculptor, designer and former property master in the movie industry, designed and built their forever home themselves with the help of a few specialists. Every detail was talked through. First, they wanted to respect the architecture and the era, but they also wanted to bring it in the 21st century. The natural light and the views were a priority. Materials, simplicity & fluidity resume the feeling they worked on for that special living place. Respecting the environment around, also meant they had to keep the house on 1 level to blend in with the corn field. A lot of chalenges made this rebuilt complicated, like keeping all the trees even if they were, for some of them, less than a meter away from the new dwelling. Living in this black elegant home feels like living outdoors, literally. Visit their website at www.cre-actif.com.