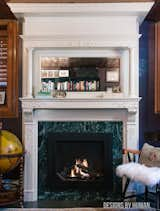 Park Slope Book Editors Work Room
From Designs by Human.
A Brooklyn based book editor needed to transform her lower level in their Park Slope duplex to accommodate that writing style she evokes. A glamorous yet masculine "cigar lounge" feel, her new entertaining and work space fit in with a cozy environment to kick back and write. The room doubles as an entertainment area that is easily closed off by original doors from the 1800's that were salvaged and re-purposed to hide the bar when not in use.
The updated fireplace was lightly restored and a new copper ceiling was added. The jewel of the room is the hidden room for the family cats underneath the stairs where the left over marble was installed to give them a glamorous retreat of their own.