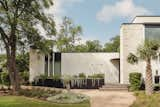 From North Arrow Studio
Situated on a corner lot in Austin's Zilker neighborhood is the Over/Under Residence, a 3 bedroom, 3 ½ bathroom home. The house has a sleek, modern design comprised of steel, glass, stucco, and limestone. Many of the neighboring lots are limited to one story by deed restrictions, so, to best fit into the neighborhood, the design allocates as much square footage as possible to the first floor. The second level steps back, away from the primary street elevation. However, there is no shortage of space in the 5000 square foot home with a detached two car garage and a full basement. The basement holds a gym, two saunas, and a large den for entertaining, complete with a moody bar. Natural light is carried throughout the project through lightwells to the basement, thoughtfully placed skylights in interior spaces, large expanses of glass throughout, and a custom field glazed wall.
From the exterior, the pool is the focal point of the home. It runs along the length of the building, ensuring views of the water from just about anywhere on the first level. The field glazed wall and custom doors strengthen the connection between the interior and the pool courtyard, and a limestone wall provides a strong backdrop behind the pool. Thoughtful landscaping creates a private courtyard, despite the home's corner lot location. Overall, the design of the home is focused on open, functional living with an emphasis on natural light and connection to the outside.