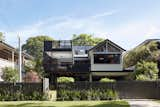 Credits
Photographer
Christopher Frederick Jones
From contexture pty ltd
Our Resilient House, designed by husband+wife Architect+Client team for their own family, faces north opposite Enoggera Creek and a busy pedestrian bike pathway in Ashgrove (Brisbane, AU). With outlooks of lush creek foliage, the existing post-war house was reinvented to encourage resilience through sustainability, enacting opportunistic social engagement, respecting the surrounding context and resisting flood and bushfire threat.
Following the 2011 floods, the Brisbane City Plan 2014 enhanced flood overlays to creek-facing properties. Our Resilient House was the first renovation in the street to respond, requiring elevated minimum habitable floor levels. The robust undercroft design enabled flood water to sweep and safely drain away without burdening neighbouring sites.
Context was an important consideration, along with giving back to the street through connections socially via displayed activities or retreat as appropriate. Ashgrove's architectural vernacular is distinctive and valued. These character features influenced key building angles, materials selection and form through progressive modern interpretation.