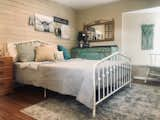 From Jake Skinner
Hello.
My greatest appreciation and accolades for the work you do for the real estate and design communities. Long time fan.
Albuquerque New Mexico is blessed to be home to world renowned architect Mr. Bart Prince whose works have taken him around the globe. (www.bartprince.com)
I personally am blessed to own one of his earlier works, The Nakomis Dwellings from 1977. This is a 4-unit townhouse-style apartment building that is filled with unique and interesting design choices.
Brief history that I know: 4 years bank owned and unoccupied. Purchased in November 2018. 6 month complete renovation. Now operates as a short-term rental business and corporate housing. Please see the photos of these AirBnB units:
www.airbnb.com/use...
I would be honored if you would consider showcasing this incredible property, the architect that originally conceived it (Mr. Prince is still living in Albuquerque and is aware of, and complimentary, of the work I've done to restore it) and the interior decorator as well, Alicia Carter Interiors. aliciacarterinteriors.com
Renovations included entire gut and rebuild of 4 kitchens (we raised the ceiling by 9"), updated bathrooms, flooring was replaced where needed, dimmable LED lighting throughout entire property (inside and out), and installation of a ceiling fan in each unit that was never there before.
Let me know what you think about the project. I'd love to showcase Mr. Prince and his contributions to Albuquerque architecture.
Sincerely,
Jake S