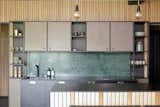 Mountain Apartment in Ore Mountain, Czech Republic
From Martina Schultes www.martinaschultes.com
Mountain apartment is located in Ore mountain in Czech Republic and offers beautiful views on mountain top Klínovec as well as German small spa city Oberwiesenthal with mountain top Fichtelberg. The apartment was finished spring 2018 and the size of the apartments is about 70 square meter.
Apartment is meant to be a family gateway for weekends and holidays from city and is offering lots of activities throughout the whole year.
The interior is completely custom designed. All elements like wood wall paneling, kitchen from metal construction, children bunk bed, tables made from solid piece of oak tree with "life edge" and metal base, bed with leather headboard decorated with straps, bathroom metal mirror, cowhide leather bench and all other cabinetry were custom made based on my designs. Only chairs and lighting, together with appliances and other kitchen and bathroom equipment was bought from the stores. Dining chairs are iconic Wire chair from Vitra, design Charles and Ray Eames, all lamps are french brand Lampe Gras.
The forest green colour is seen throughout the interior on interesting materials to emphasise the mountain feel and surrounded nature and is a great combination with rest of the materials used in the interior as grey floor tile, oak wood, black metal and bronze fittings. In kitchen beautiful green Guatemala marble is used on kitchen backsplash. In bedroom green is used on custom made leather headboard with straps, where the leather has vintage patina look which was handmade by myself. Last significant green elements is a bunk bed in children room made of pine wood toned to green colour. All cabinets are made from bronze shade laminate, black laminate is used on kitchen, commode, countertops. Interior doors are custom made as well, the material is black matt lacquer. Wood paneling seen throughout the interior brings warm feel and coziness into the interior together with sheep rugs which can be found on the floors in each room and on the chairs and stools.
Project credits:
Design: Martina Schultes www.martinaschultes.com
Photo: Robert Zakovic
Lighting : Lampe Gras
Funiture: Wire chair from Vitra, design Charles and Ray Eames