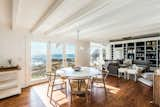 Montauk Ocean Front Cottage
Credits
Interior Design
Beverly Bartfeld Interior Design
From Dianne Licata
Drive through the mansions of hedged homes in the Hamptons to stumble into Montauk, a fishing town that has burgeoned into a hot spot of relaxation and good times. With the region's most accessible—and spectacularly beautiful—beaches as the centerpiece of the town's tourism activity, nabbing a piece of beachfront property is not an inexpensive proposition.
When this cottage, situated on the bluffs of the real estate-exclusive Old Montauk Highway, hit the market, one couple jumped, knowing that a quick "face lift" was needed to update the dark-and-dated look. To oversee the renovations they sought out Beverly Bartfeld, noted NYC interior designer and owner of Montauk's only home decor boutique, indy home montauk.
Her first assessment: the wall of windows looking onto the beach was more engaging and alive than any piece of art. Highlight it and make a comfortable seating area for views of the crashing waves and you could practically leave the rest alone. Except, of course, you can't.
After she changed the flow of the open room to make it more conducive for hanging out, with views of the ocean and fireplace from any angle, Bartfeld focused on the plain bookcase. Painting it dark gave it contrast and alleviated the need to fill it. Glassware on the shelves caught the light at different angles through the day.
The use of a variety of shades of the color blue and a mixture of textures, throughout the cottage and guest apartment, make each room unique yet pull the whole project together cohesively.
And it's all set to the sound of the crashing waves.

Contact: Dianne Licata - dianne@indyhomedesign.com
201-819-7574