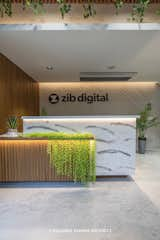 Modern Office Interior Design In Ahmedabad
From Prashant Parmar Architect - Shayona Consultant
This 5,000 sq. ft. carpet area office was to be designed for the IT Professionals who constantly works with the computers and the electronic gadgets. Thus, the design was to be made that keeps the user everfresh and maximizes the space's potential as a base for working collaboratively with others, brainstorming new ideas, and engaging in the company's vibrant culture.
Entering the office, one is greeted and blessed in the Reception Area in front of the Temple that keeps the space spiritually enlightened. The reception area is highlighted with the use of MCM Cladding as a backdrop. The receptionist sitting besides the Marble Top reception table in front of the large sized window remains connected with the nature and experiences the joy whole day.
The passage leading to Work Space and the Director's Cabin is a prominent feature of this modern office. It is an abstract illumined installation of reflection of light and material. The continuation of the LED profile light from ceiling to walls gives a playful effect with a sense of illusion. Moreover, the offices in the passage are covered with a camouflaged door giving a seamless and extended view in a short-narrow passage.
Leading to the Workspace, the area keeps the worker inspired and motivated through beautifully carved quotes on the walls. This grandeur space that can accommodate more than 100 people is kept ventilated with natural air through the full wide window. An interactive area with vertical garden as a backdrop wall is an exemplary space designed for interaction with colleagues and have a group discussion in this cozy place. The Conference room is a space hidden behind the camouflaged door of the large wall which is made soundproof for eliminating the disturbances from outside. The use of various lights and the textures on the walls creates a soothing ambiance in the space.
The Director's cabin is a space highlighted with the yellow colored backpainted glass in the backdrop. One can experience the interesting patterns on the floor created by the wooden blinds by the morning rays of sun. The legboard of the table is adorned with the stone veneer adding a uniqueness to the table.
The use of subtle tones of veneer, stone crete, cladding materials, grey toned sofa adds luxury and comfort to the space. All it took was a few simple shelf accessories with veneer and MCM Cladding finishes to make a cheerful, modern look. This office was designed by bringing together the principles of functionality, aesthetics, personality and value of the design philosophy.