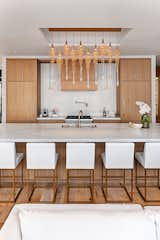 From Avida Mohseni
Modern Lake House on Lake Simcoe BY ONE X ONE DESIGN INC.
This luxurious 5,000sq. ft lake house located in the gated community of Friday Harbour Resort, and fronting the captivating sights of the one-of-a-kind, man-made marina on Lake Simcoe showcases the eloquence of modern design. The aesthetic goal was to establish harmony, connecting the natural surroundings of Lake Simcoe and the modernism of the resort life. This was achieved by mixing elements such as metal inserts in the 21-foot tall natural stone backdrop, a breathtaking upside-down tree chandelier taking root in the 300-year old reclaimed elm ceiling, and using natural and synthetic light as a feature element of design to add dimension and texture to each space. This technologically advanced smart home provides comfort and accessibility to the home owners.
Each and every corner of this modern seasonal home was custom designed and built by the team of Architects and Designers.
Upon entering the residence you are greeted by the Canadian black walnut live edge closets.
The kitchen cabinetry was designed in white oak and white washed to create a monochromatic esthetic showcasing the beauty of the chandelier bejeweling the 15ft 9inch island.
A custom bar made of Zebrano species holds the record player which entertains the guest with the music of the 60s and 70s while the hosts choose the perfect wine bottle from the custom designed infinity wine cabinet.
Once finally seated on the oversized sectional the breathtaking sparkles of the wood style gas fireplace mesmerize the guests throughout their stay.
Upon first glance at the feature wall the essence of the intentionality of design is present where the natural taj mahal stone in its raw form juxtaposed to the polished version comes to life. The LED Strip lighting in the floor shooting 30feet of light against the floating Zig Zag Staircase directs your attention to how intentional lighting is the true design feature in this home.
On the second-floor family room the main features are the custom built bookshelves, the 1,000 pound natural wood console, the custom designed fireplace mantel and the 300 year old reclaimed elm ceiling however, once again it's light that plays the main character in this room with the breathtaking upside down tree chandelier hovering over the mezzanine.
Whether the guests decide to continue their journey up the stair case or take the vacuum elevator, upon landing on the third floor they are greeted by custom cabinets and beautiful art photography covering the walls. The bedrooms and bathrooms are each uniquely designed to meet the needs of the family members.
It was with the Client's lifestyle in mind and in full respect to the beauty of Lake Simcoe that this Modern Lake House was designed and built. A luxurious yet warm and inviting space was the outcome of this design and construction project.