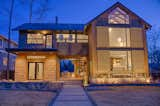 Credits
Photographer
Katie Jenkins Photography
John LaGuardia Photography
From RUCKERHILL
When Rucker Hill sat down with his blank canvas located across the street from the trolley station and City Park in Fort Collins, he wanted to build something new and modern that felt original to its setting. The Old Town district is the heart of Fort Collins and there isn't a more iconic street than Mountain Avenue. In the early 1900's, Fort Collins was a prosperous
sugar beet farming community and staying true to its roots was the designer's inspiration. The aim was to blend in with the fabric of the neighborhood using raw elements, yet add architectural diversity to clearly create a modern home.
"It's hard to believe that a space like this started as a simple pile of dirt." said Rebecca Hill.
Rucker's vision started off with two basic shapes, a rectangle and a square and he used these basic building blocks to allow his vision to come alive during the architectural process. As a result, this modern day barn was birthed.
Rucker Hill—both the homeowner and designer —is listing the property for $1,725,000. Form, function and attention to detail with excellent craftsmanship.