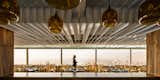 From vgz arquitectura y diseño
Located on floors 40 and 41 of the iconic Latin American Tower in the Historic Center of Mexico City.
Miralto | Level 40 was not only the intervention of 2 floors in this iconic building, the objective was to update the pre-existing restaurant and join the 2 projects: Miralto (Restaurant) | Level 40 (Bar) making them one, to generate a new culinary hotspot adding the experience of being a tourist attraction, to achieve this we use Mexican finishes and designs to reinforce its location.
The design focused on keeping the views of the city open, maximizing free height and presenting a fresh and informal atmosphere that did not compete with the tower's original design.
All the existing obstacles were removed to integrate all the space and obtain the 360º view for the guests. Leaving the central core of vertical circulations.
We focus on three-layer coatings: paste floor, lambrines and lattices on walls and ceiling.
The only walls are generated in the core, which we cover with concrete pieces, specially designed with references of geometric drawings of pre-Hispanic cultures, design is repeated throughout the space, lambrines and lattices.
Being a building that has survived several earthquakes, we find significant slopes in slabs, for the ceiling we design an irregular "pergola" that absorbs the differences in level.
As for materials, we handle a very simple color palette and materials, white and two shades of green and carpentry of huanacaxtle, to maintain the idea of ​​"terrace" and the luminosity of the space.
The lighting is designed integrated to the pergola so that the incredible view of the city is not obstructed at any point
For Latino 40, we invert the colors of lambrines and lattices to black to achieve an intimate atmosphere reminiscent of the construction time of the tower.
Taking advantage of the low ceiling and the spectacular views of the city, we worked with the design of lighting and mirrors to generate effects and reflections of the city lights within the space.
We design three bars that generate a route and different corners of coexistence. We reinterpret the Acapulco chair in stainless steel and design the "platinum" table to emphasize the site.