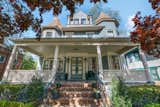 From Rebekah Jenkins
Architect and interior designer, Natalie Rebuck of Re: Design Architects, set out to design her dream family home after years of New York City apartment living. The house, a 5 bedroom/5 bath Victorian built in 1899, is nestled among the tree lined streets of Brooklyn's historic Fiske Terrace in Midwood. Weeks after closing on the home, Covid lockdowns forced Rebuck to delay immediate renovations, but allowed time for the designer to meticulously compose a space that represents her unique tastes while catering to the family's needs.
Structurally, the gilded age-era home was in good shape, but the interior was dated and in need of a modern touch. Re: Design Architects and a trusted contractor, resurfaced and painted every square inch of the house and installed new flooring in the interior. The small, closed kitchen was expanded and opened up to allow for a clear view of the living space so that the family's two young children can always be seen. Sleek, modern cabinetry along with state of the art appliances were installed to create a warm and functional kitchen.
Rebuck's design style incorporates maximalist, modern and antique elements; all geared to compliment the space under renovation. Her command of color can be seen throughout the home, and is complemented by well-curated artwork and finishings. Each room tells its own unique story but in a way that remains cohesive. "I love to be playful with color, textures, and patterns. I want you to walk into a room and be immersed in the experience of color in a way that makes you feel like you're being enveloped into an idea," says Rebuck. To tie together and accentuate the bold color choices, Natalie adds antique and modern items, resulting in rooms that feel both comfortable and polished.
Rebuck found unexpected inspiration in the crushing lockdowns caused by the pandemic. Topical artwork, such as Karin Miller's "in isolation again," and "god save the queen," brighten the walls, while the entire basement serves as a place to escape. Re: Design Architects designed the playful room around the original mid-century bar, and added a disco ball, Atari 80's game station, projection screen, and bright, eye-catching colors to create an entertainment space full of optimism and hope for future get-togethers. Other features of the house include a wine cellar, office, and attic playroom.