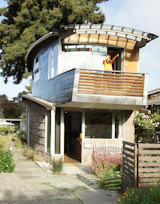 From Leger Wanaselja Architecture
The McGee Salvage House shows that healthy material choices need not be compromised in pursuit of energy efficiency. In addition, it's forward looking design creates an entrée into its green credentials, revealing an emphasis on energy performance, environmental and health impacts of building materials, and water conservation.
The entire exterior is clad in salvaged and junked materials. Over 100 salvaged car roofs cover the upper walls of this house. The roofs were sawed out of grey cars left for parts in local junk yards. The lower walls are clad in poplar bark, a waste product from the furniture industry of North Carolina. The awnings are fabricated from junked Dodge Caravan side windows.
The 1140 square foot, 2 bedroom house is small on the outside and big on the inside. The curved exterior allows more light to enter the south windows and more light to slide past into the neighbor's yard. It also creates the optical illusion of reduced size from the street. Inside, the high ceilings, wide open spaces, and large windows and doors to the garden create a sense of spaciousness.
It is located in the heart of one of Berkeley, California's oldest residential neighborhoods, near the downtown core. The house shares its 6500 sq. ft. site with an existing 1920's bungalow and a young grove of 4 Redwoods. A fixture on Berkeley green home tours, it has been a popular addition to the neighborhood. In 2012 it received an AIA green design award.