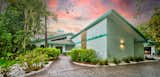 Malibu-Style, Mid-Century in Naples Florida
Credits
Interior Design
https://www.chairish.com/shop/judshow
Landscape Design
Smallwood Landscape Design
From Justin Askins
I have read that a "home is the scaffolding of a family". I admire the architectural insight in the remark and believe it stands for the proposition that integral flexibility within design is that critical element that distinguishes a house from a home, capable of accommodating the changing needs of an owner over time.
So before you read on, ask yourself "what is the proper premium to you for a home over the price of a house?"
4324 Butterfly Orchid Lane was intended to be the first "Spec" home in Naples built by John Soave for the, now well-established, Signature Group development company. It was designed for a smaller family with one Master and two Guest Bedrooms. My parents bought it while under construction in December of 1985, and my family have been its exclusive owners since.
It has been the primary home of my family since we took possession in July of 1986. It has served our evolving needs as a primary residence for a family of 3, as a private nursing home for 1, as a swinging bachelors' pad for 2 and finally as a multi-generational home when one of those swinging bachelors took a lovely bride in 2014. This home has exceeded our expectations in performing in each and all of these divergent roles with a special kind of accommodative dignity by virtue of its exceptional design flexibility and structural execution.
It has served as that scaffolding necessary to accommodate 35 years of ownership, surviving several major hurricanes intact, and one pandemic until professional opportunity of the current, second-generation, owner requires relocation abroad.
Now that we are vaccinated, we are interviewing prospective purchasers of this property via several public and private channels in pursuit of an optimal transaction with the most suitable purchaser.
One family has preserved and continually re-imagined the Mid-Century character of the original structure through four separate remodels over 35 years to increase size and flexibility of floor plan to accommodate the evolving demands of a modern lifestyle. Throughout each remodel we upgraded all systems necessary to facilitate and promote that lifestyle. Our final remodel, completed just recently with the refurbishment of the sliding glass doors, focused on bringing the interior fit and finish to a level commensurate with a level of structural integrity that is no longer available in new construction.
In the final 2018-2021 remodel:
The Master Bathroom gained all new Kohler fixtures and marble countertops. A Japanese "soaking tub" on a bespoke marble pedestal was installed and is of a size necessary to compliment the 110 sq. ft. Carrera Marble lined, Master Bath Shower which features 8 new Grohe shower heads, 5 separate (and new) Grohe volume controls and 2 refurbished Grohe "scald guard" thermostats. This shower faces East, so the owner may to customize their shower experience with near-infinite variability as they take in the first rays of morning sun through several banks of glass block. There is a separate "Commode Room" with its own sink and pocket door for privacy. The Master Bath also features a separate Carrera Marble lined steam bath with a newer steam unit and its own shower head. Two new 50 gallon hot water tanks and a pressure pump serve the Master Shower alone. A towel warmer was also added to complete the room, and the experience.
Flooring in the Master Bedroom and His and Hers closets, "Great Room", Office and Guest Bedrooms were upgraded to a pale gray Bella Hardwood. Asian-style, rice paper insert doors were added behind the glass sliding doors for added privacy in the two Guest Bedrooms.
The Kitchen and Laundry Rooms benefited by an advanced application of Antimicrobial/Antiviral Quartz flooring, laid in "zero-grout line" slabs. Matching Quartz Countertops in a neutral (but complimentary color) were added atop the perfectly preserved, original Ray Roth cabinetry. Are we Coronavirus clairvoyant? No, we have dogs and wished to have the greatest possible degree of protection against the germs that accompany their companionship.
The entire home was converted to LED lighting, and new higher SEER rated Air Conditioning units in 2016 that has resulted in a reduction in power consumption by 50% in peak months and has allowed for the ideal synthesis of passive cooling elements throughout the home and active climate control systems for peak comfort within a stable thermal envelope. An 11 speaker Sonos system (with Sonos "Bridge") provides music throughout the home, and is customizable as desired to play in any combination of rooms. Finally with respect to technology recently introduced into what had been Naples' first "Smart Home", the Jandy pool control system was updated to be controlled via an app on your phone or included iPad Mini.
37 sliding glass doors open the first floor of this "Malibu Style" Contemporary on to a 3000+ sq. ft. screen enclosure that features a 37'x17' pool, an adjoining spa, ample room for entertaining, a separate potting area, and a multitude of places to nap in the Southern Exposure overlooking golf and water views of Quail Creek Country Club's "Signature" Arthur Hills' designed Par 3, "Creek #3". The entirety of this recreational vista is protected from view of by mature, xeriscape landscaping during the day and strategically located landscape lighting at night.
This 18 room home includes:
A Master Suite with expansive golf course and Lanai views through two full walls of 8 sliding glass doors.
An indoor/outdoor "Florida Room" with 10 sliding glass doors, connects formal and guest living areas on Southern side of the home.
A meandering hallway on North side of home provides continuous air flow through the home to maintain constant temperature throughout and capitalize on the passive cooling qualities of over 1000 sq. ft. of travertine flooring and winds from the Great Room past the two sets of Garages, the Laundry Room and finally back to the Kitchen and formal entertaining spaces with true "Malibu Style" functionality within Sarasota School of Design inspiration.
The formal Living Room has a travertine floor, features a two story, freestanding fossil stone fireplace (never used, but viable), a full complement of bookshelves and a view of the sunset that is unparalleled in this home.
The two half-baths are one formal Powder Room off the Living Room, and one "service" Powder Room near the 3-Car Garage and Laundry Room.
At the heart of this home, the Kitchen features the aforementioned antimicrobial/antiviral quartz countertops and floor, (2015) Dacor cooktop and ovens, a True Brand Commercial refrigerator (1996-refurbished 2020) and new Verilux skylights.
The Family Room features acoustically tuned tray ceiling with built in surround sound speakers and 70" flat screen television on a swivel mount capable of allowing you to watch tv from the comfort of the pool, perfect for "March Madness"….
A full Pool Bath with shower and tub is across from the wet bar with built in wine rack, a sliding drawer for liquor storage under the sink, an ample sized bar refrigerator and stand-alone icemaker. On the North side of the "Great Room" is the Office with full fiber optic connectivity and features an 80" computer monitor but still maintains a splendid golf course view, and may be accessed by its own exterior door (which my accountant tells me is critical for deducting the expense of the room as a business expense).
Upstairs, a 900+ sq. ft."Bonus Room" was originally intended to be a billiard room with its own wet bar and has plumbing in place for that application or as a "mother-in-law" suite but remains partially unfinished to accommodate the vision of the next owner. In addition, 100+/- sq. ft. of air-conditioned storage space is accessed from this Bonus Room. It is currently in use as a studio for distance/remote/virtual instruction by my wife who broadcasts her work internationally.
An oversized Garage for a small boat/RV and golf cart with two separate garage doors and its own laundry facilities in addition to the Great Room and Bonus Room comprised the bulk of the 1996-1998 remodel which nearly doubled the square footage of the original home "under air", and is adjacent to the Guest Wing, where two Guest Bedrooms share a full Guest Bath with shower and tub. All of this newer living area was placed as far from the Master Suite as possible, so host and guests may commingle at the luxury of convenience and not necessity of the owner.
The Guest Wing of the home is separated from the centrally located formal Living Room, Dining Room, Kitchen and Foyer by an Art Gallery/Music Room with cork flooring for acoustic purpose.
Travertine, Carrera Marble, Quartz, Hardwood, Porcelain, Cork and Pressed Concrete flooring are throughout the home to regulate the temperature of the home while simultaneously joining and delineating the many areas within the home.
To underscore the fact that this home is also a giant "toy box" is an oversized Garage space for 3 cars with separate Overhead Doors and controls for each.
Finally, the room that commands most positive commentary and admiration for design, features and execution is the Laundry Room. The Laundry Room is also THE favorite room of the current owner. Why? Beside the beautiful antimicrobial/antiviral quartz floors and countertops, the Laundry Room features 2 Samsung steam washers and 2 Samsung steam dryers. There is sufficient room for a massive folding table, a full-size clothing steam press and an ironing board. A shower-size, European style "Drip Closet" and washboard molded into the stainless sink allows for cleaning and preservation of all the linen clothing necessary to live comfortably in Naples. It also contains our central medicine cabinet (not included in sale) and built-in cabinets for storage of rags, cleaning supplies and emergency hurricane supplies. Still there is sufficient room to display artwork, and a 32" flat screen television. Both Sonos and Bose sound systems are in place. As a result, it is a room where the drudgery of laundry is removed and replaced with light, art, music and technology necessary to make the time spent in the Laundry Room at the very least convenient and most - remarkably pleasant.
Bring your family, bring grand collections of art or cars or whatever makes living in Naples the dream you wish it to be; but do not miss the opportunity to do so within the "scaffolding" that makes 4324 Butterfly Orchid Lane, not only a home, but a trophy home and experience.