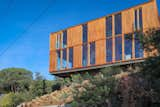 From BoutiqueHomes
Jutting out over the hills high above Los Angeles, this holiday home in Laurel Canyon is an architectural tour de force that is both meditative and exhilarating.
Designed by LA based architect Jeffrey Eyster and immortalized as the last home to be photographed by famed architectural photographer Julius Shulman, the home's image has been published around the world.
Anchored firmly into the mountainside and cantilevered out into space, the bold, heroic proportions and cutting-edge design are tempered with warm wood and glass construction and a harmonious interplay with nature.
Created to be environmentally sensitive, the home's dynamic design and heightened sense of belonging redefine what architecture's role can do.
Climbing over two stories high above the rugged mountain landscape, Laurel Canyon Boxhouse has been crafted as a living work of art. Set atop the LA basin with views from every room, this bold geometric home is as surprising inside as it is out.
Towering above the city, the vast, open plan living area features fold away windows that transform the spaces into a dramatic open-air habitat. Despite the walls of glass and sweeping views, the home's placement affords surprising privacy and intimacy. Minimalist in tone and decor, the interiors feature sleek modern finishes, warm teak accents and a vibrant and eclectic collection of art and furnishings.
The designer kitchen is a sleek state of the art hub with island seating and professional grade appliances for easy entertaining.
Upstairs, the stately master suite includes a sitting area and office nook and stunning wall-to-wall canyon views and a lavish spa-like bathroom.
There are two additional double bedrooms with similar layouts, a shared bath and direct access to the patio. One is outfitted as a music room with electric and acoustic guitars, while the other features a custom-designed surf theme.
Immaculately landscaped, the terraces and outdoor lounge areas are perfect for soaking in the views and dining outside amid awe-inspiring sunsets.