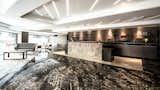 From ARTTA Concept Studio
Inspired by the 1920 New York City - the commercial heart of America, with the growing of businessmen, traders and planters. The city has impressed people with profession so large that the amount of quality lodging establishments began to emerge.

Hotel Ease explores an Art Deco theme, a movement that has a distinguished style of simple and clean lines with bold geometric forms. This can be seen on the lobby flooring, using black patterned marble arranged in handcrafted planks to create a dynamic look. The lobby are decorated with paintings, bicycles and old fashioned suitcases and cameras for an authentic look and make the guests feel as though they have stepped back in time of New York.

Behind the reception, the square frame décor is made of brass stainless steel – slim, straight and tough, a combination of delicacy and harshness to emphasis the professions of New York. The unique silver-grey timber veneer is the main wall-finishing that surrounds the hotel, this veneer is visually shinny and carries the raw texture of wood grain, transforming the place into a high-ended hotel.

The hotel of 160 rooms is furnished with a combination of black, white and navy blue, a formal colour palette, that can be associated with professionals, to create a classic and elegant ambience. The room numbers are designed in a unique font for a touch of Deco. The hotel also includes a restaurant, gym facility and a terrace garden on the 3rd floor for guests to relax and enjoy their stay.