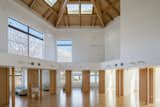 From Takamitsu Ogino
We have created a place where people with physical disabilities have the capacity and centripetal force to lead a calm nursing life.
It is a nursing facility that is responsible for local nursing.
The hexagonal architecture has a radial arrangement of rooms centered on the hall, providing a floor plan with centripetal properties.
Beautiful light and a view of the trees enter from the atrium of the central hall, creating a comfortable and inclusive space.
All rooms on the 1st and 2nd floors face the hall.
If you stand in the middle of the hall, you can grasp the situation of patients, nurses, volunteer staff, and everyone else. You can hear your voice and communicate.
The site is adjacent to the main road and has a lot of traffic.
By raising the ground above the road, you can't hear the annoying car sounds, you can't see the annoying cars, and you can see only the beautiful scenery from inside the building.
By defending the bad environment and incorporating only the good environment, we reconnect the relationship with the surrounding environment. Realized a space with a capacity.
The gap in the site created by arranging the hexagonal building on the triangular site became a buffer zone with the neighboring buildings,
and the irregular external space became a margin to mediate the surrounding environment and this building.
I designed an inclusive place to live in peace at the end of my life. In addition, we designed a space with centripetal force,
which is the base of the nursing life and the base of the mind, because the nursing life that puts a mental load requires a heart.