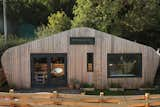 Credits
Interior Design
Rachael Fisher & Paul Gent
From Rachael Fisher
Hergest Lee cabin was designed to mirror the curves of Hanter Hill opposite, sitting harmoniously within the rural Welsh landscape. The cabin was designed and built by the owner Paul Gent, he also hand crafted all the fitted elements in the cabin himself, from the kitchen units and cupboards to the staircase, all joinery, floating bed and bathroom unit to create a continuity of style and tone.
A feeling of space has been created in a relatively small footprint by the use of high ceilings and the blurring of wall and ceiling through the curved timber form. The use of vertical lines in the floating staircase extend the space and draw the eye upward. The Cabin was finished in March 2020.
The sharpness of the apertures is a contrast against the soft curves of the cabin adding an air of modernity to the structure. The use of modular boxes features throughout the cabin, from the bespoke kitchen units to the shelving and cupboards in the bedroom, the fold away table in the kitchen allows flexibility within the space with pull out box stools that slot neatly under the table.
"I was inspired by Frank Gehry, I'm interested in natural forms within a modern aesthetic" - Says Paul.
There is a predominantly Mid Century feel to the interior design with the simple lines of Ercol 203 chairs and the soft leather of the Stouby sofa, with some eccentric additions sourced from local artists and antique fairs.The colour palette is a muted shade of greys, browns and blues taking inspiration from Edwardian drawing rooms.
All cabins are designed with environmental considerations in mind, they have a continuous insulation layer to avoid thermal bridging are wrapped in a breathable membrane to virtually eliminate draughts and to allow for the structure to breathe. Made using cedar from a local Welsh sawmill and using polystyrene instead of polyisocyanurate board (Kingspan, Celotex) due to its considerably lower environmental impact. All paints, wood stains and varnishes are natural and breathable. It's heated using infrared panels which are 40% more efficient than other forms of electrical heating.
If you're interested in having a cabin of your own for your office, studio or a space to use in your garden you can purchase one directly from the Hergest Lee owners. Get in touch through their website for a quote.