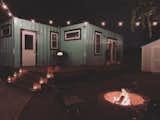 Gimlet: Urban Container House
Credits
Architect
Nicole Seekly of Line + Angle Architecture Company
From Jen West
Gimlet is a 480 sq ft. high cube shipping container conversion centrally located in the Reynoldstown neighborhood of Atlanta, GA. The container home was mostly executed by us as homeowners, but we've had help at core phases along the way.
The goal of Gimlet is to provide a one-of-a-kind experience for travelers visiting Atlanta. We are surrounded by endless restaurants by the most exciting chefs, cozy coffee shops, the booming Beltline and murals all within a short stroll of our home.
Our interior designer, Tea of KINSOUL HOME, is an up-and-coming woman in the design space. "When planning the interior design of Gimlet, I wanted to ensure I made practical use of the 480 square feet of space, maximizing both the functionality + unique aesthetic that makes it such a cool Atlanta destination. I kept the homeowners, the location + the future guests in mind while creating a warm, inviting experience that married the history of East Atlanta + the ingenuity of tiny living with an energy + a space that would feel like home to anyone spending time there." - TEA
As an experience add-on for Gimlet is @eldonthebus, a shorty skoolie that we converted to an RV a few years back (features a mini kitchen, sofa that pulls out into a bed, dining booth, and more).
We created these accessory dwelling units to assist us in staying in our awesome neighborhood and to pursue our careers as filmmakers. As artists, supplemental income is imperative for big-city living. We also plan to host other creatives and retreats for those like us looking to enjoy what Atlanta, as an artist's haven, has to offer. Big plans ahead!
Follow @gimletcontainer on Instagram, or come stay with us on Airbnb by searching Gimlet: Urban Container Home.