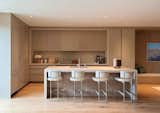 Four Floors of Luxury in Stunning Modern Home
From Angelica Angeli
Step into this beautiful home designed by San Francisco's Sabra Ballon of ballonSTUDIO to understand what really goes into the creation of a home that is cohesive and personality-driven at all (four) levels.
The first floor consists of the entryway, kitchen, breakfast room, living room, and game room. The open-concept kitchen and living room offer plenty of room for conversation during get-togethers with the family. Sabra chose a calm palette with a soft beige theme for the kitchen island, cabinets, and chairs to blend with the warm wood flooring. In the breakfast room, Sabra uses pops of color to break the neutral theme. The living room also follows the color scheme of the kitchen, creating a harmonious appeal. Comfortable furnishings, natural textures, a sleek wooden center table, and a beautiful area rug create a sophisticated, welcoming space.
The game room is grounded by a stylish fireplace, which creates a stunning focal point. Elegant chairs and tables create the perfect space to read a good book while sipping on a drink at the end of a long day.
The second floor has a hall, a primary bedroom, a baby's room, and a home office. The primary bedroom is designed as a comfortable retreat with a soft palette and light wooden tones.
In the baby's room, a cozy crib and a comfortable armchair create a cute, playful ambiance.
On the third floor, Sabra used hospitality-grade durable materials to design a delightful sky lounge and bar area overlooking spectacular views of the city. The basement is reserved for the clients' beautiful wine collection. The cellar looks grand and sophisticated, with heated floors and glass doors that allow a view of the treasured spirits it holds.
Explore more designs from ballonSTUDIO at ballonstudio.com