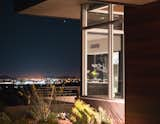 From Dale Gardon Design
Desert Breeze
Photography by Jason Roehner & Kyle Niemier
The 5300-square foot home was designed to have the floor plan uniquely configured to provide all the Primary Living spaces at the second level, and all the secondary Bedroom/Bath/Recreation Room at the first level. This floor plan "inversion" provides unbelievable panoramic views that would not have been possible with a conventional floor plan design. Expansive windows and doors were strategically placed taking advantage of natural light throughout the day and creating plenty of Outdoor Living spaces with great Indoor/Outdoor connectivity. The home is also axially aligned with Pinnacle Peak, Camelback Mountain, and McDowell Mountain peak providing enriching daytime and nighttime panoramic views in many directions.
The exterior design and massing is complete with a front "porch" and broad shaded roofs reminiscent of regionally appropriate Ranch homes. The exterior materials reflect the character of Western Regional Ranch Architecture but with a Contemporary interpretation and current siding materials that provide longer lasting durability of aluminum, but with the richness of the warm wood tone. The metal standing seam roof provides a striking contrast to the earth tone taupe stucco walls. 32 solar roof panels are skillfully hidden above the primary sloping roof.
The home was constructed with SIP (Structural Insulated Panels) roof and wall panels, rather than the traditional method of drywall construction, which come prefabricated, saving on on-site construction costs. Other advantages are energy efficiency, high levels of insulation, reduced product waste, and structural stability.