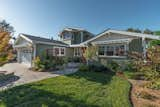 From Saikley Architects
A down-to-the-studs remodel and second floor addition, we converted this former ranch house into a light-filled home designed and built to suit contemporary family life, with no more or less than needed. Craftsman details distinguish the new interior and exterior, and douglas fir wood trim offers warmth and character on the inside.
The new design answers our client's desire for spaces that would both encourage family time together, as well as allow for quiet and privacy. Off of the open living room, a multi-purpose "away room" serves as a media and game room, study and guest room. Large glass doors open to the rear garden and an outdoor dining patio with a louvered pergola for sun control. Upstairs, each of the children's rooms feature window seats—creating special nooks for play and providing storage.
"We worked with Alexandra on the ground-up rebuild of our home and she was wonderful—she was patient, versatile, has awesome attention-to-detail and is very easy to work with, which are really important qualities as you deal with the inevitable challenges that arise. She listened carefully to what we wanted, and was very creative in generating ideas and suggestions while remaining flexible and open to our thoughts throughout the process. While much of her time is spent working on larger-scale details, Alexandra is also exceptionally helpful when it comes to thinking about materials, fixtures and colors.
Alexandra created a good working partnership with our contractor, which helped to surface problems early and minimize negative surprises. We found her to be very knowledgeable about how to best manage the city's constraints and make it much less painful than it otherwise would have been. Lastly, we felt that Alexandra was very fair as far as cost and contract structure. We do not hesitate to recommend her ability to create a practical, well-conceived design that makes for bright, warm, livable spaces." – Client