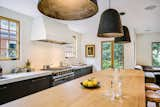 From Manual Labor
The remodel of this home in the Rockridge neighborhood of Oakland started small. The owners are adventurous, however, and a simple kitchen remodel turned into a full house redesign with major structural upgrades. Nothing was left untouched, although the remodel preserved the best aspects of the original home. Both owners have a strong design eye and were active partners in every design decision.
We opened up the kitchen and made the connection to the backyard a focus. We stripped off a poorly built flat-roofed extension and rebuilt it with a vaulted roof that looks original. The central stairs were redesigned completely with a large skylight to bring light deep into the entryway, once the darkest area of the house. Twelve inch wide solid Douglas Fir flooring was used throughout the home. We added only 11 sf to the home, but the new light-filled layout feels much larger than before.
Axelson Builders did amazing work – while dealing with very specific design details. The structural design was done by Mosswood Engineering. All of the millwork was custom made by Munson Furniture, and the attention to the small moments is fantastic. Manual Labor designed and made the custom fireplace seating. We also designed and produced custom lighting with help from Kinetic Electric. Photos by Christopher Woodcock and Manual Labor.