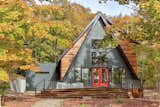 From beag+haus
The Cedar House is located in Northern Michigan set among a dense forest in a land conservancy which overlooks the Cedar River Natural Area. Designed by the partners of beag+haus for their client who is a prominent figure in land conservation, the home's unique shape and layout is derived from the owner's travels and desire to be connected to the land and place they call home.
The house sits at the mouth of a natural ravine and is surrounded by the landscape that keeps it hidden as you approach the site. The main design form of the house was inspired by the original A-frame cabins that dot the surrounding lakes and Northwoods region. The exterior materials were chosen to reflect the natural colors of the site throughout the seasons. The reclaimed redwood used on and in the house was purchased from a local cherry orchard that used the wood for their brining tanks. The wood was then milled by a local craftsman and used for exterior siding, decking and interior finishes and doors.
As you enter the house you are greeted by an expansive kitchen and living area with a soaring ceiling covered in natural redwood that leads to a second floor loft. The main living space at the front of the house includes an eat-in kitchen and living area with a modern wood stove flanked by walls of windows to connect you to the outdoors. Past the front living area, you are invited down the hall to a main level bedroom for the owners' son and full bathroom at the rear of the house. On the side of the main house is a single story structure for the master suite which includes a bedroom, full bathroom and walk-in closet with laundry machines. The second floor loft is used for a home office and includes a covered balcony at the rear of the house that allows you to sit among the upper branches of the surrounding trees. There is also a roof deck above the master suite which is accessed by a roof window in the loft.
The entire home is heated by an in-floor hydronic radiant system that provides necessary warmth during the cold northern winters. The large windows throughout the house allow for maximum natural light all year and create an opportunity for cool breezes during the warmer months. The exterior is clad in reclaimed redwood and composite siding panels.
Inspired by long ago cabins, the Cedar House revitalizes a traditional form and adds a modern flare as it stands among the hardwoods of Northern Michigan.
Visit beag+haus here: www.beaghaus.com