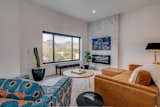 From Madeline Cragin
The first time Matt landed in Tucson, he turned to Mattie and asked, "is this Mars?" The sweeping mountain landscape dappled with dancing saguaros was unlike anything the native New Zealander had ever seen. After his first road cycling ride up Mt Lemmon, followed by a Barrio Blonde and In-n-Out burger, the dream was cemented: one day, we would create an oasis in the desert for our friends and family to gather and adventure.
Fast forward six years, and we found our perfect spot- albeit a bit sooner than we expected- and took the leap. As millennials obsessed with our dog, we naturally named our house after our cockapoo puppy, Tui (pronounced Two-E). Matt, while waiting for his green card, re-landscaped the entire back yard and Mattie set to work decorating the place. Some of the best times of our lives have been in the short-term rentals we have stayed in around the world- from a Motu in Tahiti to a jungle bungalow in Bali- and it was essential we offered a space up to par with our traveling experiences.
Casa Tui was established out of a mutual love of cycling, trail running, tacos, craft beer, sunshine while being designed as an homage to Tucson's rich and evolving culture as well as the drama of the desert.