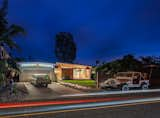 Cardiff with A Side of Ranch
Credits
Landscape Design
Grain Landscape Architecture
From Surfside Projects
Color, geometry and material choices of the exterior cladding defines the architectural metaphor of "old meets new" for the Cardiff with A Side of Ranch project.
A simple yet playful design supports the concept of an indoor outdoor California lifestyle. The improved layout liberated the segmented mid-century Rancher to a sunlight-filled open space showcased by a modernist galley kitchen. Oversized sliding glass doors directs flow to a stylized backyard hang out filled with fun outdoor Art, BBQ kitchen and gas fire bowl.
The newly constructed pavilion, a 380 square foot expansion, allows for an angled wood ceiling master bedroom with clerestory glass, walk-in closet & bright private bathroom. The indoor palette is dominated by natural wood case work, pearl toned walls, wide plank Oak flooring and exposure of the key structural elements.
Out front, an original asphalt driveway was replaced by a use able green space and a new permeable driveway with synthetic grass was installed. Landscaping plan was dedicated to specifying drought tolerant , hardy native grasses, succulents and cacti.
Total of 2075 sqft of living space - 4 bedroom, 2.5 baths, 2 car garage, outdoor built-in BBQ, gas fire pit, hot water on demand , Forced Air furnace, roughed in and ready for A/C and solar thermal Hot water if required
Project will be third party certified to confirm our best green building practices by California Build It Green