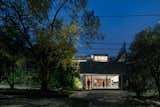 From taller paralelo
The project started when our client found an abandoned old house from the 1960's located in one of the most desired urban areas at Mexico City: the main idea of the project was to take advantage as possible from the structural elements of the original house to make it profitable.
The entrance from the street is through a large corridor; at the end of which a great pool, a void open to the sky and a levitating stair creates different effects of shadows and reflections. Alongside, exists a mixed used space with total independence.
At the main level, there's a big garden above the mixed-use space and the parking; besides as the living area and services.
As mentioned before, the structure of the house was respected and it was designed in half levels; the foyer is connected through a staircase to the public area of the house connected to an elevated terrace that sees to the flat garden, giving the possibility of connecting the interior with the exterior.
At the center of the house a small backyard with another water element and a Japanese guava tree, is the central axis for ventilation and natural light to the interior spaces. The next half level is the semi-private area in which the dinner is located next to the family kitchen.
The next half levels are where the private areas or rooms are located, the spaces terraces play a very important roll so each space has a real connection with the outside; taking advantage of the context.
The house was thought as a self-sufficient and ecological house providing the design with new technologies as solar energy, rain harvesting system and sewage treatment plant.