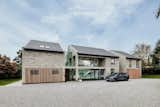 From Anne Tiainen-Harris
Award-winning sustainability.
This replacement family home has sustainability at the heart of its design. A finalist in the British Homes Awards 2020, the house integrates an Air Source Heatpump, Solar PVs, Mechanical Ventilation and a Heat Recovery System.
The new build benefits from a refined palette of materials, including handmade Petersen bricks which reflect the traditional vernacular of the area. Glazed links throughout the building soften its footprint on the site and connect to the outside. Fulfilling the client's brief, at the heart of the design is an open plan kitchen and dining space connecting to the living room with the feature fireplace.
The new home needed to sit well in its rural surroundings, fitting in with the traditional local vernacular. The design is a contemporary version of the local architecture through its pitched roof and simple form. The project was beautifully constructed to an incredibly high finish by Barr Group.
Designed by HollandGreen (www.hollandgreen.co.uk), an award-winning, multidisciplinary Studio of architects, interior designers and landscape designers. With a reputation for timeless quality, we've been creating homes and gardens of distinction for over a decade.