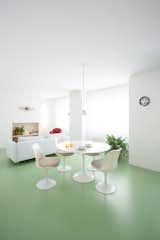 From Nada
Green continuous flooring interconnects spaces.
Apartamento Picasso, designed by Nada.
An apartment in El Born neighbourhood in Barcelona
The project designed by Nada comes from the need to refurbish an apartment from the 70s. The result is a living space with a contemporary style and simple and coherent materials. A thoughtful open space where different areas perfectly interact with each other. The interior design focuses its attention to emphasise the natural light and the connection between the outdoor environment and this interior space of contained dimensions. The area has been released from any obstacle that would hinder the light flow.
A white cube distributes and relieves the space limitations
A central white cube was constructed to distribute the different space functionalities. Erected in the living room, this structure contains a niche on the living room side, the dressing area, as well as bookshelves and storage space. Inside the white cube, almost invisible, it appears a second room of multiple uses that naturally connects with the living room.
The sliding translucent doors come out from the interior of the central white cube, acting as a lantern and creating suggestive shadows. Doors that unleash light as a revisited version of the Japanese shojis.
The continuous green paving invades all the spaces of the apartment. Green has been chosen as a reminiscence of the tree branches behind the delicate curtains that diffuse the outdoor light.