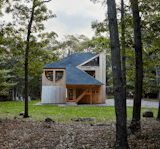 From Two Street Studio
The joyous, playful and wildly creative vacation homes designed by Andrew Geller in Long Island are only now coming into due appreciation. The Antler House, built in The Springs of East Hampton in 1968, was perhaps his most whimsical. Over the years, new owners replaced original quirks with standard building features, and tacked on pragmatic additions. Our clients fell in love with the "wooden spaceship in the forest" and commissioned us to restore it to its former glory, and add a few modern comforts. With original drawings in hand we happily obliged.
Although much of the project is characterized more by additions removed and original materials replaced, our contribution to the Antler House can be found in the addition of the raised deck. Placed on the more private West facade, we borrowed a triangle for the deck's stair and used an original handrail detail to screen the vacation home toys. The restoration features meticulous recreations of Geller's original "owl-eye" and replacement of all invasive gypsum board with fragrant #2 cedar. We removed an inappropriate bathroom addition from the East facade facing Neck Path, and replaced it by reconfiguring the original first floor bathroom into two full baths.
A conservationist at heart, Geller believed that no house should occupy more than 20% of the site. In a neighborhood replete with trophy homes, we are proud and gracious to have had the opportunity to restore a mid-century work of art that another owner may have razed. We hope that our work on the Antler House would have made Geller proud.