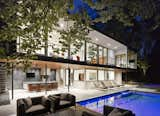 An Award-Winning Midcentury Home in the Lush Cincinnati Hillside Asks $2.55M
From Sotheby's International Realty
One-in-a-million! Mid-Century river/city view home exquisitely restored and renovated to the highest standards. Winner of multiple architectural and design awards. Nestled into the hillside, the house maintains a wonderful sense of privacy. Indoor and outdoor living at their finest!
Architect of Record: Drawing Dept
drawingdept.com/a-m...
Photography: Ryan Kurtz
ryankurtzarch.com/RES...
See the listing here:
www.sothebysrealty.com/eng...