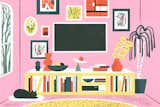 Dwell On This: It's Time to Mount Your Television
Hang your flat screen on the wall to instantly upgrade your home theater.
Experience
You'll need some basic tools.
And maybe a couple YouTube tutorials.
Budget
Wall-mount kits run from roughly $20 to $40.
Time
Install the TV in a single afternoon.
Decades ago, manufacturers promised televisions so light and thin, we'd hang them on our walls like art. They delivered. Today, some models are thinner than five stacked dimes; Samsung's Frame TV literally doubles as decor. Even so, most consumers are content to place their flat panel on a media console—a shame for safety, aesthetics, and space efficiency.
Join Dwell+ to Continue
Subscribe to Dwell+ to get everything you already love about Dwell, plus exclusive home tours, video features, how-to guides, access to the Dwell archive, and more. You can cancel at any time.