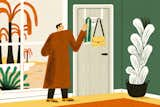 Dwell On This: Knock Out These Storage Hacks This Weekend
These quick, easy ways to clear clutter will have you wondering why you didn't do them sooner.
Experience
You'll just need some organizational tools.
And a bit of strategic thinking.
Budget
Shell out a bit of cash for new storage solutions.
Or break in those unused containers.
Time
Some of these solutions take a matter of minutes.
After a year of hunkering down, what has been your favorite home upgrade? Mine is pragmatic and affordable—but also a bit luxurious: a sheet of black, minimalist stainless steel and an amber glass bottle that add a touch of sophistication to our original, 1930s-era bathroom. Resembling a certain cult-favorite skincare brand, this space-saving solution came in handy as local stores ran out of basics, and I was forced to buy an industrial-size bottle of liquid hand soap. In the process of ditching bar soap, I thought about similar storage hacks around the house.
Illustration by Mar Hernández