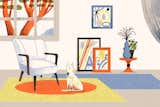 Dwell On This: Layer Your Rugs
When a single covering won't cut it, bring in another for a boost of color, pattern, and texture.
Experience
All you need is an eye for pattern and color.
Budget
Rugs can cost a pretty penny, but you can layer more affordable pieces under statement-making accent rugs.
Ultimately, you'll spend less than if you'd splurged on a high-end area rug.
Time
Give your room a plush makeover in a single afternoon.
A few years ago, in the ancient city of Petra in Jordan, I hiked several miles beyond the ruins into the surrounding canyons to reach a stony precipice where a lone tea vendor had set up a tent. His was the last stop on the trail, catering to parched hikers stubborn enough to make it this far. The reward was a view that literally took my breath away—and a refuge from the hot desert sun. Taking a seat to sip on a brew, I noticed a rich tapestry of layered rugs, beautiful in its simplicity and ultra comfortable to lounge on. I would return home inspired to recreate the cozy refuge from memory.
Join Dwell+ to Continue
Subscribe to Dwell+ to get everything you already love about Dwell, plus exclusive home tours, video features, how-to guides, access to the Dwell archive, and more. You can cancel at any time.