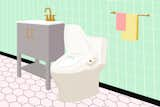 Dwell On This: Get Behind the Bidet
Here's why you should upgrade your porcelain throne with a pampering washlet or bidet.
Experience
You'll need some basic tools.
And a general understanding of how water gets into your toilet.
Budget
Most attachments don't cost very much.
But you can always splash out on fancier models.
Time
Installation can be as quick as 30 minutes.
When it comes to daily rituals, Americans are perplexingly shy about washing their bits and bobs in the bathroom, owing our allegiance to toilet paper because, well, it's what we all grew up using. But as they say, familiarity eventually breeds contempt. We believe toilet paper's days are numbered, and should be permanently flushed from our lives because it's wasteful—and frankly, a little barbaric. As the rest of the world can attest, washing rather than wiping just makes more sense.
Join Dwell+ to Continue
Subscribe to Dwell+ to get everything you already love about Dwell, plus exclusive home tours, video features, how-to guides, access to the Dwell archive, and more. You can cancel at any time.