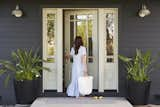 Partner Story

This Home Guide is presented by Level Home, whose smart locks pair high design with an intuitive approach to home entry.
Learn More
When it comes to your home renovation wish list, replacing those outdated kitchen cabinets or laying your dream tiles on the bathroom floor may rank high, but you know what they say—safety first. With today's vast array of smart home products, making your home safer and more secure is more attainable than ever, whether it be monitoring your house from afar or ridding the air of smoke particles. We recommend the tech-powered upgrades below that are sure to bring you peace of mind (so you can get back to your wish list).
Keep an Eye Out
Smart home security systems run the gamut from professionally installed and monitored to DIY. If you're leaning toward a more bespoke approach, an essential part of your kit is a connected outdoor camera that can alert you whenever there's activity afoot, record events, and save footage in the cloud—best case scenario, it's just the neighbor's cat lounging on your porch; worst case scenario, it's a potential break-in. Deter and protect yourself from unwanted visitors with a high-definition smart camera equipped with night vision, two-way audio, and a built-in siren.
Let There Be Light
While some outdoor cameras come with their own floodlight, installing additional smart lights, both indoors and out, adds an easy level of protection. With your mobile app, you can program connected bulbs inside the home to blink on at random times while you're away instead of leaving them on 24/7, which actually alerts burglars that you're out of town. Motion-activated outdoor lights, placed around pathways, entryways, driveways, and yards, can stop intruders in their tracks—and, not to mention, keep you from tripping when you're digging for your keys.
Be Your Own Virtual Doorman
Answering the door has finally transcended the physical realm. With the help of a video doorbell, you can see and chat with everyone who comes across your welcome mat, whether it be a delivery person or your kids coming home from school. Like other outdoor cameras, these can have bells and whistles like object and facial recognition, night vision, and two-way talk, which help you determine if a visitor is friend or foe.
Pair your video doorbell with a smart lock so friends, family, and other guests have their own digital keys to the house, and you can keep track of who's coming and going. The remote, hands-free control offers an extra convenience factor when you're approaching with armfuls of groceries or when you're halfway through your commute and wondering if you actually secured the door.
Breathe Easier
Not all dangers are detectable to the eye: small fires can become raging blazes in seconds, and carbon monoxide is infamously odorless and colorless. That's why you need a smart smoke and carbon monoxide detector to step in and sound the alarm. These can check their own batteries and monitors and send alerts to your phone, and you'll also be able to silence the siren if all you've done is burnt dinner.
In general, impure air can have a huge impact on your health, causing everything from headaches, colds, and respiratory issues to an increased risk of cancer. In fact, it's often the case that the air inside is more toxic than what you'll find outside. A smart indoor air quality monitor and air purifier work in tandem to keep tabs on—and remove—pollutants like dust, pollen, pet dander, smoke particles, and VOCs for a healthier home environment.
Get Started