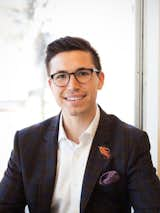 Q&A with architect and designer Marc DeSantis
Marc DeSantis is the co-founder of the up-and-coming Dallas-based Nunzio Marc DeSantis Architects design firm. Co-founded with his father, award winning architect Nunzio DeSantis, Marc's structural and classical perspective bring a fresh millennial direction and eye to this cutting-edge architecture design firms. His training at the University of Notre Dame and at Robert A.M. Stern Architects have brought him to a thrilling new chapter in the industry.
The decision to partner with his father was a no-brainer. After launching in 2017, the firm has secured and worked on highly sought-after projects, including the redesign of Bishop's Lodge in Santa Fe, N.M. Nunzio, who was previously with HKS for 34 years, reshaped destination travel and is known for some of the most respected and sought-after resorts in the world, including Ventanas al Paraiso and Esperanza, Auberge Resorts Collection.
DWELL: How did the decision to collaborate with your father as a business and design partner come about?
MARC: My father's power in the hospitality design world was evident to me even when I was growing up. I admired his passion, drive, and dedication to deliver some of the most exclusive and unique hotels to market in the world. He built a small hospitality group within a larger firm that was considered a force in the industry. I always had a desire to team up with him to do something special to create a one-of-a-kind architecture firm. Quite honestly, the decision was an easy one and a long time coming.
DWELL: Outside of the family, who would you say your biggest design influences have been?
MARC: My training in college had a profound impact that set me apart in style and approach from my father. The architecture school at Notre Dame is the only program in the nation that trains students in the Beaux Arts method to master classical architecture. In case you are unsure, classical architecture is the one with the round columns and pediments. In the world of architecture, the classic style is the most well-documented and rigorous system of rules that are used together to create buildings of civic importance. A similar kit of rules can be found in all styles of architecture if you look hard enough. Most importantly, my training taught me that architecture of the past is not poison. It is a gift. Collectively it should be used as the foundation and building blocks to create the even greater architecture of the future. Going through this program is really where I first encountered the nature of what high design is all about; attention to every detail, from the cornerstone of each building to the parapet.
Exiting college, I had the unique opportunity to work for the world-renowned architect Robert Stern. He built his reputation as an architectural historian and a pioneer in the rediscovery of traditional architecture. It was living proof that my training in school worked in a real-world application. In addition, Robert Stern is the embodiment of what bespoke and boutique architectural design is about.
DWELL: What do you see for the future of architecture as it pertains to the hospitality industry?
MARC: Millennials, including myself, are not a culture that revolves around monetary value but experiential collections. Value for us is in doing and seeing things that evoke wonderment, emotion, and human interaction. We don't brag about money but rather things we have done, people we have met, and things we have seen. Most importantly, millennials are on a mission to create and document as many memories as possible. With this, the perception of luxury has changed. When you look at brands right now, they are all doing their best to pivot towards this new outlook. Luxury brands like Six Senses are winning the social media war by building resorts that are less ridged and more engaging with their surroundings. A new breed of luxury-experience brands are emerging that are not about the glitz and glam of a bougie, buttoned-up hotels. There will always be a place in the hospitality world for an upscale glamorous experience that pampers its guest with opulence and unmatched service. However, it will have to get used to sharing and competing as the industry evolves.
DWELL: What are some of the larger differences you see between what millennials are looking for in a hotel, versus what the older generations are looking for?
MARC: People want more than just a room to stay in or a restaurant to dine at. They want more engagement with others, more energy, and experiences within the experience. People want to be transported to a world unlike what they are used to seeing from day-to-day. I spent three years of my life in the greatest urban lifestyle city in America, New York, and emerged with a new outlook on what I expect out of the hotel industry. In that great city, the street life is an extension of the hotel. The pedestrian realm and the hotel blends into one incredible concoction. Steps from the front door of a hotel, you can discover the coolest coffee shop, an old-world book store, a cigar bar, and you may hear through the grapevine that there is an original New York speakeasy around the corner. Not every hotel has the luxury of being in a city like New York or San Francisco, so how does a single hotel begin to capture some of that magic? Lifestyle brands want to create a sense of discovery and to have different experience with one stay at their hotel. That is where the hotel industry is headed and how it will continue to grow. Attention to the public spaces and away from the room is one place we are already seeing a change in the urban hotel brands. In the resort world, we will continue to see brands trying to become more engaged with their surroundings, less rigid, and more focused on adventure. Even business hotels will begin to incorporate more lifestyle aspects into their offerings in the very near future.
DWELL: Are there any design trends fading away in to the horizon you are excited about?
MARC: One trend I feel is fading away, and was a huge detriment to urban areas is buildings being designed to be inward, instead of reflecting their exterior environment. Buildings should reach out to capture people and invite them, inside bringing the outside. The trend of buildings slamming into the ground and turning its back to the street is fading way.

DWELL: What sets your firm apart from others with a similar hospitality focus?
MARC: There are very few firms that are structured like us, a father/son team with only 20 employees that is solely focused on hospitality design. We are a high-design firm that personally designs for our clients to create hospitality that is unlike anything else you see in the world. I think we are extremely unique because our focus on design quality, our ability to engage and create experiences
DWELL: What is your personal design philosophy? How does your design philosophy differ from your fathers?
MARC: I was trained in classical architecture. Working at Robert Stern has made me realize what high design is all about. My dedication to have buildings fit in to the urban fabric they live in is something both my father and I agree on but have different approaches to. The reason this architecture firm is so successful is becausewe see eye-to-eye on so many things that we are able to push for the types of design we want. At times, we have difference in opinion due to styles of training. My dad was trained more in modern architecture and I was trained in traditional architecture.
DWELL: What projects are you currently working on?
MARC: Along with my dad, I oversee every project. We currently have 42 projects we have worked on since the start of last year. I've worked on projects that range from 1,000 rooms to boutique resorts in remote locations. One I'm actively working on is the 800-room Caesar's Resort in Cabo. I am extremely excited about being a part of this project.