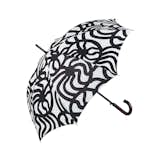 Modern Umbrellas to Get You Ready for April Showers
When spring storms roll in this season, be prepared with an elegantly designed umbrella. This assortment of umbrellas includes smartly designed travel umbrellas, boldly patterned black and white umbrellas, and more.
A cheerful antidote for dreary weather, Vuokko Nurmesniemi's bold textile design for the Piccolo Stick Umbrella makes rainy days seem a little brighter. The Piccolo Stick Umbrella is crafted from the durable water resistant polyester to keep water at bay while the wooden handle and manual open and close function gives shelter when you need it most.
Store your umbrellas with a sculptural, refined accent. Designer Alvar Aalto interprets his iconic sculpted birch form into a utilitarian and elegant umbrella stand. Made from shaped, naturally lacquered wood with a brass tray base to catch extra moisture, the Umbrella Stand 115 is a stylish resting place for rainy day necessities.