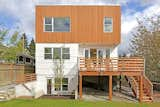 House of the Week: Nearly Net-Zero Prefab Installed in 29 Hours
Every week, we highlight one amazing Dwell home that went viral on Pinterest. Follow Dwell's Pinterest account for more daily design inspiration.
Our readers were astounded by this miraculously efficient modular home in Seattle. Only 29 hours were required to install Greenfab's "off-the-shelf" model, which packs a plethora of eco-friendly features.
As Greenfab explains, "Each bedroom is equipped with a wall-mounted, thermostat controlled, convection heater that intakes the ambient air in the room, warms it up and re-diffuses it throughout the room in a silent and consistent way. By using the existing heat in the room to maintain a comfortable temperature, energy and money is saved through this heating method."