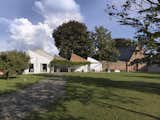 Flanders Art Suite
Nestled into the picturesque Flanders river landscape, this vacation home rental in Tielrode, Belgium is the brainchild of conceptual artists and design duo SLLD. Weaving conceptual, applied and visual arts, philosophy and craftsmanship into this living space, they invite you to experience art and vacations in a new manner.
Flanders Art Suite is a seamless habitat that explores the boundaries between exhibition and lifestyle. Creating environments for their own work and established artists, the home serves as the ultimate canvas that recreates the holiday experience as a living gallery of arts and crafts.
Situated on the site of a formerly derelict shipyard, the cluster of buildings is a living canvas dedicated to the collaborative arts of interior design and artistic innovation. The project presents rotating installations in partnership with artists and industrial designers in an intimate and livable space. 
Comprised of three interrelated buildings, the all-in-one gallery style live/work spaces carry the industrial feel of their past life. The main house is bright and expansive, with banks of windows that illuminate the whitewashed interiors. White concrete floors, elevated ceilings and blank white walls serve as the ideal backdrop to stage and create uniquely conceived interiors and events. With a loft above the main living area and a separate bath with Japanese tub, the space can accommodate two overnight guests in an oasis of tranquility.
All spaces are set up in a contextual scenography, surrounded by the works of renowned artists and designers in several 'wunderkammers' installations, filled with contemporary curiosities, objects and furnishings.
The adjacent workshop, a spacious and impressive loft-like living/dining and meeting area offers views of semi-wild gardens and a 17th century chapel where delicious local and organic meals are presented in an impressive tablescape.  
Flanders Art Suite is perfect for those looking for an experience that transcends the mundane.