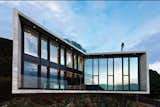 Casa X
Anchored firmly into the hillside above Cabrils, this holiday home in Spain is a tour-de-force of architectural and collaborative achievement.
Constructed in monolithic forms in the shape of a giant 'X', the home is a bold stylistic departure that makes a dramatic impact while remaining sensitive and responsive to its environment.
Answering the challenges of the steep sloping site, the duo responded with an ingenious design that even preserved the majestic pine tree at its center, while showcasing the jaw-dropping views of the surrounding pine valley, the mountains and the Mediterranean from every room. The unorthodox 'X' design is actually in harmonic response to the setting in the hills above Cabrils. Collaborating with Barcelona based interior designer Sandra Soler, the soaring, light filled-interiors and epic proportions give you a sky-high perspective, while Soler's restrained minimalist approach is in perfect synthesis with the structure. 
Distributed over two floors, the ground floor living space leads into a state-of-the-art open plan kitchen with a bespoke marble table with ample room for entertaining and dining for ten. There are also three double bedrooms and two and a half baths placed at the back.
 
The gardens slope down from the structure to an infinity pool and spa with a lounge terrace and barbecue area and a full, walk in sauna. The rooftop terrace with a glass perimeter is an inspired addition that encompasses the entire top of the structure, placing you at the most dazzling of vantage points.
Casa X is an interactive, sensory experience in unique harmony with both human and natural design.