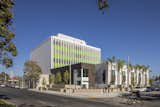 Affordable Housing for Artists in Restored Mid-Century Building
Architecture, urbanism and landscape-design firm Studio One Eleven has completed Santa Ana Arts Collective – 58 affordable homes in Santa Ana, adapted and restored from Mid-Century Modern offices. Working with Los Angeles-based developer Meta Housing Corporation on their fifth collaboration, Studio One Eleven has adapted the 1965 office building into 100% affordable, studio, one-, two- and three-bedroom live-work lofts. The project also adds 10 new affordable two- and three-bedroom townhomes. Walkable to Santa Ana's arts institutions, the residences at 1666 N. Main Street includes art studio spaces, a dance studio, art gallery, two music studios and other arts-focused amenities for both residents and the public.
The project design supports the City's mission of developing Main Street into an arts corridor, said Studio One Eleven Senior Principal Michael Bohn, AIA. Cultural facilities in the neighborhood include The Bowers Museum, Orange County School of the Arts, The Wooden Floor Dance Company, Kidseum, and the Discovery Cube.
"Santa Ana Arts Collective brings exceptionally high-quality affordable homes to a community that will benefit from an infusion of artists and other creatives," said Bohn. "This much-needed housing joins arts programming and transportation improvements, all integrated to further uplift the Main Street Cultural Corridor."
All photos by Studio One Eleven