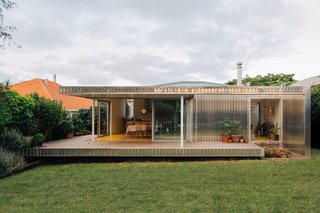 A Bright-Yellow Floor Beams New Life Into an Auckland Bungalow
A family's sunny spirit defines a radiant extension with bold design choices.
When a family of four asked Auckland-based design practice Pac Studio for help with a home renovation, the architects knew early on that the project would be a joy. "They are wonderfully funny people with a great outlook on life and great, eclectic taste," says Pac Studio Director Sarosh Mulla of the clients. "From the outset, they wanted the project to be fun and unusual." The clients' energy ultimately shaped the design direction, which began with the selection of a single color: yellow.
"Yellow is fun, yellow is warm, yellow is friendly," explains Mulla, noting that the practice always tries to tailor each project to each client's personality, as well as their pragmatic needs and budget. "There is something characteristically lovely about the color, and that's a characteristic of the clients, too—a couple with two children who seem to be perpetually smiling. Their sunny disposition, adventurous spirit, and love of bold color was the basis for the design."
But before the color yellow could take center stage, the architects had to first address the home's shortcomings. Built in the 1940s, the suburban bungalow was poorly laid out for the family's growing needs and was disconnected from the landscape due to a large vertical gap between the existing floor level and the garden.
"Most glaringly, the original bungalow had suffered an ill-conceived faux bungalow addition in the 1980s which had exacerbated some of the planning problems, while also introducing some technical problems," adds Mulla.
Pac Studio started reconfiguring and expanding the house by replacing the poorly designed addition with a larger extension that holds a kitchen, dining, and living space and lowers the floor level to bring the house closer to the garden. The expanded living space also allowed the architects to create larger bedrooms for the clients' two daughters.
Since budget was a challenge, cost-effective materials and careful proportional arrangements were critical to the project's success. "We explored the use of everyday materials composed in fun ways," says Pac Studio Director Aaron Paterson. "The yellow-painted strand board floor, plasterboard walls, and raw aluminum exterior all come together in a simple, but fun addition."
Shop the Look
"Our favorite aspect of the project is the light effects created by the verandah, and the mill-finished aluminum," says Paterson.
"With every project, we try and figure out a new way to manipulate light or shadow. The aluminum gives the most incredible light effects that change through the day and the seasons. When the sun goes down, you get this beautiful pink light across the western side of the house."
Get the Renovations Newsletter
From warehouse conversions to rehabbed midcentury gems, to expert advice and budget breakdowns, the renovation newsletter serves up the inspiration you need to tackle your next project.