One company channels the famed midcentury developer in its line of prefab homes.
Newsletter
Join the Daily Dose Mailing List
Get carefully curated content filled with inspiring homes from around the world, innovative new products, and the best in modern design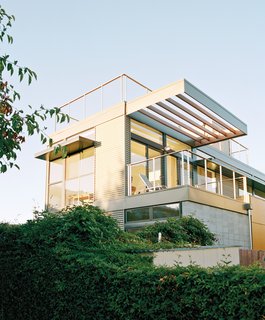 That question clinched the deal that created Simpatico Homes, a modular-home company inspired by the work of the postwar developer Joseph Eichler.
During the 1950s and '60s, Eichler built more than 11,000 architect-designed modern homes in California. Seth Krubiner, Simpatico's founder, lived in one during his youth and remained smitten with its mixture of everyman affordability and mid-century cool.
For his part, Robert Swatt, a principal at Swatt|Miers Architects based in Emeryville, California, had long pondered a way to make his grand modernist houses more affordable. The two met when Krubiner was called upon to promote and sell one of Swatt's urban projects; they hit it off, and both soon became convinced that if Eichler were around today, he'd be building in factories to save time and money. And, Krubiner insists, "He'd definitely be interested in sustainability," since Eichler popularized ideas like energy-efficient radiant floor heating.
United by this icon of modernism, the marketer and architect immediately felt a kind of "simpatico," or like-minded agreement, and a prefab firm was born.
Simpatico, which is also run by architect Steven Stept of Swatt|Miers, places a strong emphasis on affordability, which, in the oft-pricey realm of prefab housing, is something they are able to achieve via the careful sourcing of materials. The company's prototype home in Emeryville, in which Krubiner has lived since late 2011, was created in a San Jose factory for around $270 per square foot, far less than the $400-plus-per-square-foot price tag of the lowest-priced Swatt|Miers custom homes.
But where Simpatico really deviates from the modular prefab formula is in the way the homes are created. "We don't sell house plans," Swatt says. Nor do they sell one-size-fits-all boxes that travel from a distant factory to the jobsite. Instead, Simpatico's homes are based on a system of modules that can be interchanged, allowing for semicustom design suited to each resident. The bar shape of Krubiner's house, for example, fits its long and narrow 30-by-100-foot urban lot. Six modules make up the home's three bedrooms, three baths, two outdoor terraces, and roof deck.
With plenty of sustainable features, the all-electric home is on track to be a net-zero building, producing as much energy as it uses, and, hopefully, to receive LEED Platinum certification.
And, who knows? If Simpatico takes off as a form of prefab for the masses, the homes just might dot the California landscape like Eichlers do today. "Eichler made a big impact and changed the way homes were built," says Krubiner. "We want to do that, too."