View Photos
Indoor Gardens Bring Light and Air Into This Brick Home in Vietnam
Greenery abounds at this urban oasis in Hanoi.
To contend with rapid urbanization, air pollution, and lack of public space in Hanoi, ODDO Architects has designed VH House, a contemporary home for a family of four with an abundance of greenery placed strategically throughout the interior and exterior of the dwelling.
Newsletter
Join the Daily Dose Newsletter
Get carefully curated content filled with inspiring homes from around the world, innovative new products, and the best in modern design
The narrow plot of land, which measures four meters by 16 meters, originally was used as a garden filled with fruit trees and vegetables. The architects wanted to embrace the property's original verdant elements by incorporating plantings into the design of the home.

A continuum of spaces gives a more spacious feeling to the interior of the small home. The open, flowing floor plan is divided by exterior and interior courtyards filled with plantings, which help to designate the division of spaces in lieu of walls.
Although narrow, the house appears open and airy with skylights and windows welcoming in an abundance of natural light. From the kitchen to the rooftop garden, pockets of greenery are found throughout the home.
Shop the Look
A lush, carpeted lawn stretches across the rooftop, which also houses the family's vegetable garden and tropical plantings. The second-story oasis offers a place for respite from the hustle and bustle of Hanoi.
On the facade of the home's second story, bricks were arranged in a pattern that creates both transparency and privacy, adding to the flowing, ventilated nature of the home's design. The design embraces cross ventilation to help reduce the home's use of air conditioning and overall energy consumption.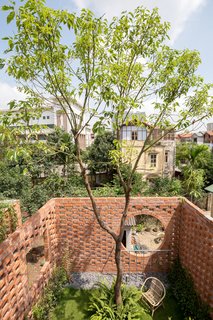 Project Credits:
Architects: Mai Lan Chi and Marek Obtulovic, ODDO Architects
Structural Engineer: Ngo Anh Tuan
Landscape Design: ODDO Architects
Interior Design: ODDO Architects
Mechanical, Electrical, and Plumbing Engineer: Vu Hai