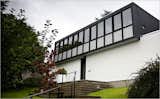 Upside-Down Houses
Upside-down houses have been on my mind lately. Like playing a golf hole backwards or turning a painting on its side, seeing a house topsy-turvy causes us to see the ubiquitous in a new and (hopefully) enlightening way.
There's this upside-down house in Germany, this one in Poland, and this long-gone one in Florida. (Plus this other one in Florida, where you can play laser tag.)
 
And in the New York Times, there's a nice little article about a modern Scottish upside-down house, which in 1959 was a radical departure from the way people were used to living—with the dirty, hot, and traffic-heavy areas downstairs, and the clean, quiet, burglar-and-badger-resistant areas upstairs.
Get the Dwell Newsletter
Be the first to see our latest home tours, design news, and more.