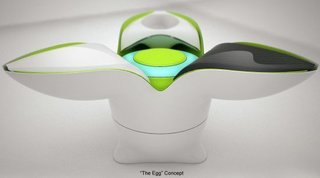 Unpeeling the Egg Kitchen
Starting as a dormant, unassumingly giant egg, Romanian designer Vlad Icobet's conceptual product hatches into an elegant, all-in-one cooking facility.
Like a blossoming flower bulb, the Egg opens up into three petals with separate functions: a place to prepare food, a cooking surface, and a washing unit. It even boasts an interactive holographic projector that allows the chef to search online for recipes and culinary inspirations.

When you're not cooking, the Egg's wings can be folded back up neatly and stowed away to save space. WIth its flexibility, Icobet's concept starts to redefine the kitchen as a mobile component within a fluid-flowing home, instead of a rigid function that is anchored to a specific place. Who says you can't fry an egg in your bedroom? Or in the laundry room?

Recently named one of the Electrolux Design Lab top 25 most innovative home appliance ideas of 2009, the Egg is in the running to go on to compete for first place in the finals at 100% Design London in September.
Get the Dwell Newsletter
Be the first to see our latest home tours, design news, and more.